This is a attempt for helping people not to miss Formula 1 race and other F1 events. There are other similar services out there, but they seem to occasionally have trouble getting timezones right. I try harder not to mess up.
There are three ways I can help you.
# Twitter
Follow @F1_Calendar for all updates. We try to keep you up to date even in the off-season!
Calendar
Subscribe to always up to date calendar on your PC, Mac, mobile or tablet. Full version contains all free practices, qualifying and race events plus offseason events. Main version only shows qualifying event and race.

Outlook, OS X, Mobile (iPhone, iPad, Android)
Click the calendar link to add it to Outlook on your PC or Calendar on OS X.
Google Calendar and other calendars
Add the URL below and create new calendar in Google Calendar.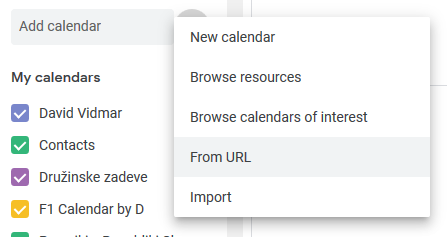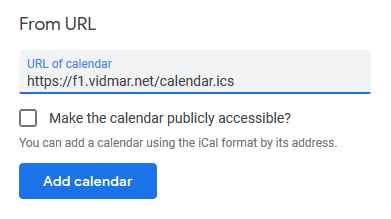 Full Calendar - Free practices, Qualifying, Race plus Off season!
https://f1.vidmar.net/calendar.ics



Main Events - Qualifying and Race only.
https://f1.vidmar.net/calendar_qr.ics



Email
Coming soon. If you would like to get e-mail notifications, let me know.